The Lagos State Judicial Panel of Judicial Inquiry probing the alleged shooting of #EndSARS protesters by the military at the Lekki tollgate on the night of October 20th on Saturday, November 21st, resumed the viewing of a CCTV footage submitted by the Lekki Concession Company, operators of the tollgate.
The camera showed that the protest ground at Lekki toll gate was calm and peaceful until about 6.43pm when people could be seen running towards the tollgate from the Oriental Hotel area.
Two minutes later, at 6.45pm, military trucks with flashing headlights arrived the scene. There were no fewer than seven military truck at the protest ground in Lekki.
At 6.53pm, about 10 minutes after the arrival of the military vehicles, the tollgate went into a blackout according to the footage shown st the judiciary panel.
Two minutes later, at 6.55pm, one of the military vehicles drove through the tollgate to the other end where the crowd of protesters was gathered.
Also, the protest were allegedly not throwing stones at the soldiers as claimed by army.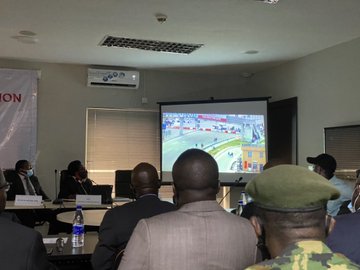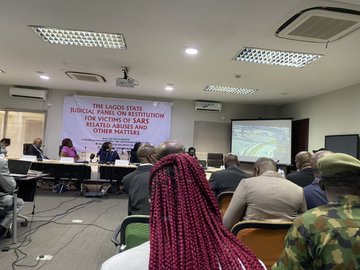 10:54 As with the first day, when the footage was shown, the strategy is to show the protests were peaceful.

Another important point is that so far, the camera is as being panned automatically. But the #EndSARS lawyers believe later on, it was being operated manually.

Why? pic.twitter.com/kRgvvY6lY4

— Editi Effiòng (@EditiEffiong) November 21, 2020